Marketing
Doesn't Have to Be
Difficult
Frustrated by Your Web Design Agency?
As a small business owner, do you struggle with your web design? Wonder if your SEO agency is really delivering results? Feel frustrated by your search engine marketing efforts or digital marketing in general? Maybe it's time to get a web design company that can take away your marketing headaches.
We'll help you breathe that sigh of relief that comes when you're confident that all your web design and marketing needs are covered.
We're a web design and SEO company in Lancaster, PA that's borderline obsessive about solving your digital marketing challenges. Through results-driven web design and search engine marketing, we make marketing easier for small businesses just like yours in Lancaster, York, and Harrisburg.
Test Your Marketing Strategy
Free Online Self-Assessment
Find out if your marketing strategy is on track, or if you're just wasting money.
Full-Service Marketing Agency
in Lancaster, PA
Website Design Company
A great website design doesn't just look good. It performs. Your web design should be your best salesperson, working 24/7 to capture your customers' attention and convert them to buyers. Plus, it needs to be optimized for mobile and SEO marketing. Let our experienced web design company build you a user-friendly, responsive web design that really works for your business!
Digital Marketing Agency
There are so many types of internet marketing — social media, search engine marketing, SEO optimization, email marketing, and more — what do you choose? As a full-service web designer and digital agency, we specialize in helping Lancaster, York, and Harrisburg businesses find the right mix to attract new customers and grow their businesses.
SEO Services
Even the best website won't help you if no one sees it. Get found on Google with SEO marketing from our team of digital marketing experts. Lots of SEO agencies promise results. Our SEO company will deliver benefits you can see: an optimized website design that ranks on Google, brings in more traffic, and helps you get more customers.
We Deliver Results You Can See
There's a reason hundreds of clients in Lancaster, York, and Harrisburg choose us as their website design company. We get results you can actually see. Unlike other web design agencies, we don't bombard you with fancy spreadsheets and pages of data. Our results are measured by making you and your business successful. Here are just a few examples:
475% Increase in Bookings
Hess's Barbecue Custom Website Design
Goal: Grow the business by expanding into a new market
Strategy: Develop a custom website design to differentiate from competitors and target the wedding catering market.
Results: Doubled bookings year-over-year
10x Increase in Leads
Heidler Roofing Web Design
Goal: Generate more leads and website traffic
Strategy: New web design paired with an integrated marketing campaign using local SEO, email marketing, and social media.
Results: 10-fold increase in leads from their website
200% Increase in Traffic
LanChester Grill & Hearth Digital Marketing
Goal: Increase attendance to their showroom and events
Strategy: Maximize visibility through local SEO, social media advertising, and Google re-marketing campaigns.
Results: Record event attendance and organic traffic
"They make the process simple for me"
I've worked with EZ Solution's web and design team for many years including our last two major web site redesigns. From start to finish, the team is thorough and make the process simple for me. They are quick to respond to changes and new ideas, and they always bring fresh ideas to our online resources. I'm thankful for the help the EZMarketing team brings to our business. I highly recommend them.
Steven Hoeltzel
PETS Lancaster
Digital Marketing Insights to Make You a Better Marketer
New eBook
Website Buyer's Guide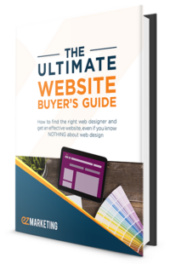 Learn how to get an effective website, without the hassle!
Ask EZ
This week:


Why Should I Hire a Web Design Company?
We're a Web Design Agency Focused on Local Small Businesses
We're a local, small business too! So nothing makes us happier than helping small businesses in York, Harrisburg, and Lancaster. Our Lancaster marketing agency knows the challenges you face managing your business, let alone worrying about marketing. Let us help. We'll do the heavy lifting with your website design, search engine marketing, and even print marketing. You run your company.
Have a project?
We're happy to help and ready to get to work!