PPC AGENCY
Get Traffic and Leads NOW with PPC Marketing
When you need results fast, pay-per-click or PPC marketing is one of the best ways to skyrocket your traffic and leads. Our PPC agency provides Google Ads management services that help you advertise at the top of Google, attract the right traffic, and convert more leads when you need them most.
Winning Google Ads Management for Fast Results
When it comes to PPC advertising, Google is the big kid on the block. With Google Ads, you can appear on Google's search engine results pages or millions of partner websites across the internet. That's a huge audience–but you don't want to pay for clicks that don't improve your bottom line.
That's where our Google Ads management services come into play. Our Google Ads certified team will create PPC campaigns that reach customers searching for your products and services right now.
Our PPC agency here in Lancaster, PA will develop and manage your pay-per-click advertising so it's targeted to attract the right traffic. We'll also research high-value keywords, create attention-grabbing ad copy, build an optimized landing page, and report on our progress each step of the way. As your PPC company, our goal is to ensure the best possible return on your investment.
Should You Buy Google Ads?
Learn the pros and cons of Google Ads and if they're a good fit for you.
Our PPC Marketing Services
Start Getting Results with PPC Marketing
How Our Google Ads Management Works
Pay-per-click marketing is simple in concept. You pay every time someone clicks on your ad. But there are a lot of details that your PPC management agency needs to be on top of that can make or break your campaign.
Our PPC agency handles all the digital marketing strategies behind the scenes to make it easy for you to get a winning campaign. Here's how our Google Ads management services work:
Winning PPC Marketing Examples
Want to see your rankings and organic traffic soar? Here are just a few of the small businesses we've helped who are enjoying the view from the top of Google.
25%
Ad converstion rate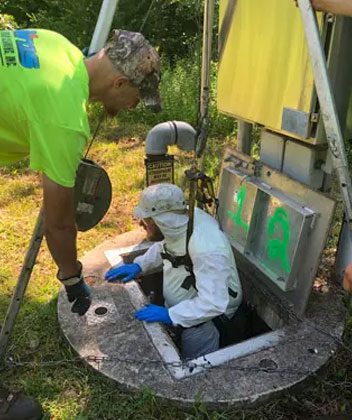 Biros Septic
700+
Conversions in one month
Diversified Funding
200%
Increase in web traffic
LanChester Grill
Boost Your Bottom Line with PPC Marketing
All the jargon and technical talk around a PPC marketing program can get confusing for business owners who just want to understand how to get results from PPC advertising.
This free e-book will explain how PPC marketing works, demystify the bidding system, and show you how to create effective PPC ads for your business. Of course, if you still have questions, give our Lancaster PPC agency a call!
Learn More about PPC Marketing
SEO Marketing vs. PPC Marketing: Which is Better?
As a PPC agency, people often ask us which is better: SEO or PPC? The answer is… it depends. Both are search engine marketing tactics that help drive traffic to your website. Which is best depends on your goals, your budget, your audience, and your timeline.
Here's a brief look at the pros and cons of each to help you decide what approach is right for you.
SEO Marketing
Search Engine Optimization (SEO) is all about ranking in organic (or unpaid) search results.
Pros of SEO
Visibility – Ranking high in Google search is one the best ways to increase your visibility online and generate cost-effective traffic to your website
Free clicks – Unlike PPC, clicks on organic links don't cost you anything. Keep in mind you still need to invest in doing the SEO work.
Trust – More people click on organic results than paid ads because they're more trusted. Ranking with SEO makes your website and your business seem more credible.
Ongoing results – SEO has a longer shelf life than PPC. Once you rank organically, you'll likely continue to get organic traffic, even if you stop actively doing SEO.
Cons of SEO
Time – SEO is a long-term game. It takes time to optimize your website, create content, and build links. It often takes 4-12 months to see results with SEO.
Ongoing process – While it does deliver ongoing results, SEO requires an ongoing investment. It's not a one-and-done campaign.
Constant change – SEO is complex and constantly changing. Keeping on top of the latest techniques and algorithms can be overwhelming, which is why many businesses choose to hire an SEO company like ours.
Lots of competition – Everyone wants to rank #1 on Google. If you're in a competitive industry, you're going to have a hard time out-ranking established industry giants.
PPC Marketing
PPC refers to the paid Google Ads that appear at the top of the search engine results page.
Pros of PPC
Fast results – PPC campaigns are quick to get up and running. There's no faster online marketing tactic to generate near-instant results.
Great targeting – PPC marketing lets you reach a focused audience targeted by keywords, demographics, locations, devices, and more.
Budget control – PPC allows you to control exactly how much you spend. Our PPC agency can help you set the right budget and turn ads on and off to meet your needs.
Easy testing – Effective Google Ads management requires tweaking to get it right, but the good news is that it's quick and easy to run tests and make improvements
Cons of PPC
Paid clicks – The obvious downside of PPC marketing is you have to pay for each click, and you need to invest a big enough budget to see meaningful results.
Competition can drive up costs – Depending on how competitive your industry and keywords are, bidding wars can make costs per click extremely high.
Ongoing investment – The minute you stop paying, your PPC ads disappear. SEO marketing typically has better staying power.
Requires management – PPC marketing demands aggressive PPC management to monitor keywords, bids, quality scores, ad performance, and more.
Bottom Line: SEO Marketing and PPC Marketing Win Together
Ideally, any PPC agency will tell you to do both SEO and PPC together. In general, digital marketing has a compound effect. The more digital marketing services you do, the more they build on each other to deliver better results.
SEO and PPC together deliver added benefits including:
You can drive more traffic by targeting the same keywords with both campaigns
You get double the search visibility by having both paid search ads and organic search results displayed on Google
You can offset high-cost paid search keywords by targeting them with SEO
You can target customers at all stages of the customer journey
You can test your keyword strategy short-term before moving it to a long-term SEO marketing strategy