LanChester Grill & Hearth
---
A long-term partner, LanChester Grill & Hearth has seen consistent success with their digital efforts and tracked print advertising that bring high-quality website and foot traffic to their business. Their recent cross-channel Facebook and Google Ad campaigns have increased traffic by over 200% and helped drive record attendance for their annual open house event.
Services:
View related Consumer Products & Services examples.
View Case Study
View ALL Work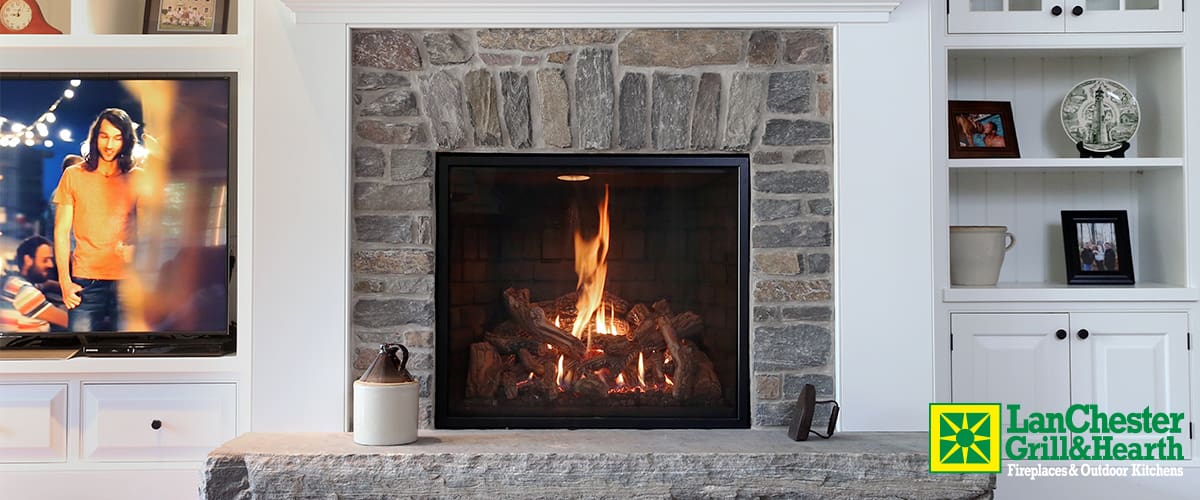 Effective Facebook Marketing and Google Ads campaigns, plus ongoing SEO services increased web traffic by 200%, which helped drive record event attendance and increased sales
Meet the Client
Founded in 1996, LanChester Grill & Hearth is the area's largest provider of fireplaces, stoves, grills, outdoor kitchens, pergolas and more. Whether it's indoors or outdoors, they're experts in creating dream living spaces for customers throughout Lancaster County and beyond.
Owner Sam Stoltzfus and his team love sharing their expertise about all things related to fireplaces and grills. They have an extensive showroom in Gap, PA, and they're always looking for new ways to get potential customers to stop in and see everything they have to offer.
The Challenge
In the home & garden industry, competition can be very difficult to overcome. Local businesses like LanChester have to compete against the big box stores such as Lowes, Home Depot and more.
While most people know big box stores offer a wide selection, they don't realize the range of products and services LanChester offers. LanChester does a lot more than just sell outdoor grills and stoves; they offer home and garden & hardscaping services, indoor stoves, fireplaces, and fireplace services.
In order to compete with large national chains, Sam needed to increase LanChester's online presence and get his business "front and center" with local customers. As a long-term client of our web design agency, LanChester turned to us for help with their social media advertising and marketing campaigns, as well as Google display ads to build awareness and attract new customers to their business.
The Solution
As a B2C business, LanChester understood the importance of building up their social media presence, so they chose to start with Facebook advertising campaigns in late 2018. After seeing some traction with paid social media, we helped them optimize their Facebook Business Page and post consistent, high-quality content. Effective paid ads coupled with strong organic Facebook posts led to a substantial increase in their social media presence and helped them promote their annual Grillfest open house on May 3-4, 2019.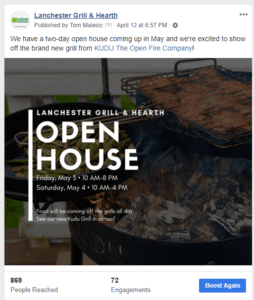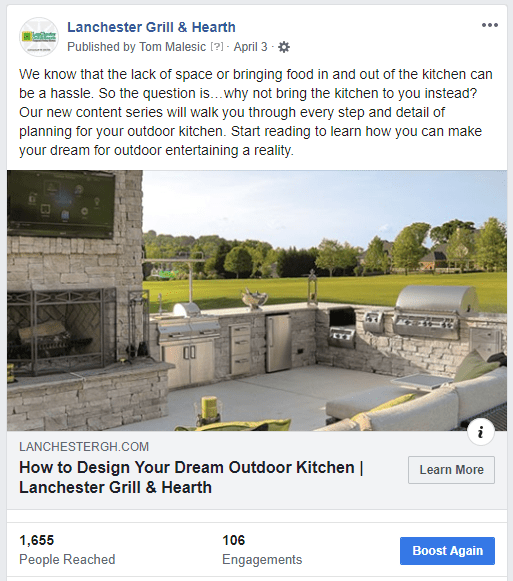 While these campaigns were boosting LanChester's brand awareness on social media, they also needed to focus on getting more traffic back to their website. In addition to an ongoing local SEO program, we implemented a Google display ad remarketing campaign in 2019 that targeted high-quality potential customers. Again, the combination of organic and paid tactics helped maximize LanChester's visibility on Google.
The Results
Within months of implementing the internet marketing program using Facebook ad campaigns and Google remarketing ads, LanChester has seen a 200% increase in web traffic, from approximately 1000 users per month to over 3000.

Google Ads (paid search) now accounts for more than 50% of the users visiting LanChester's site, but still remains cost-effective with a low cost-per-click of only $0.10.
Organic traffic has also grown and accounts for nearly a quarter of their traffic. With strong SEO practices in place, more customers are finding LanChester when they search on Google. Compared to last year, they're getting 23% more website clicks, 79% more phone calls, and 8% more people asking for driving directions to their showroom.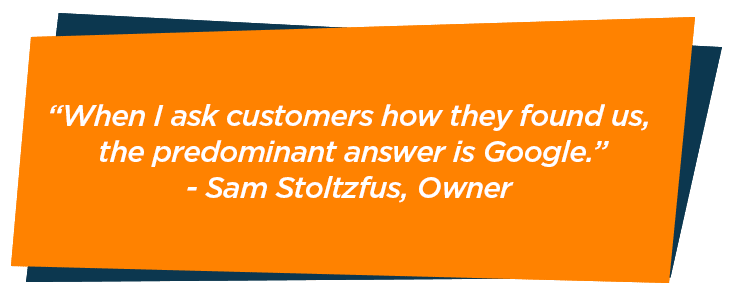 On Facebook alone, LanChester also tripled their organic impressions after we started managing their page in 2019. They also saw an 84% increase in page likes this year. We also leveraged social media to promote their 2019 Grillfest event, rather than using traditional marketing as they'd done in the past. The event, which ran from May 3-4, 2019 was their most successful open house ever, with over 400 attendees and increased sales.