LOCAL SEO COMPANY IN LANCASTER, PA
Local SEO Services for Small Businesses
If you're searching for "local SEO services near me," look no further!. Our local SEO company will help you rank in local search and ensure customers always find your accurate contact information in business directory listings.
We're a local business, serving local businesses
As a small business, we know how critical it is that your local customers can find you when they search online. When they Google your business name, products, or services, you want to show up at the top of the results.
Our SEO agency specializes in local SEO marketing services for businesses throughout Central PA, including the Lancaster, York, and Harrisburg geographic areas. We focus on creating high-quality local content and managing your online business listings so you rank higher on Google.
Our services don't stop with Lancaster SEO marketing. We support small businesses across the country with PPC marketing, email marketing, geofencing marketing, and more. Oh, and our web team can build you a wow-worthy website design, too!
What Can I Do to Get Found Online?
Why Local SEO Services are Important
If you're searching for "local SEO services near me," look no further!. Our local SEO company will help you rank in local search and ensure customers always find your accurate contact information in business directory listings.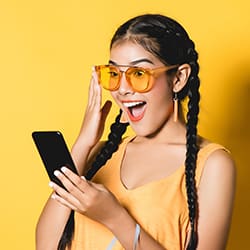 Customers Want Local Search Results
Regardless of how popular the Amazons of the world get, people want the convenience of nearby products and services.
Just think about how often you've searched for something "near me." Nearly half of all Google searches have local intent.
Our local SEO services will help you reach highly qualified prospects in your area who are specifically looking for products and services like yours. Also, because location-based searches often result in calls and visits to your small business, local search optimization is a great way to get new customers.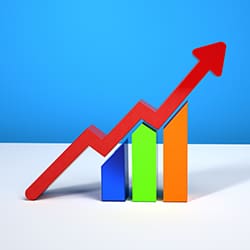 Local Search Optimization Helps You Rank Higher in Google
How often have you done a local search and seen a map pop up? This is called Google's "local pack," and it highlights the most relevant local businesses for the search. Our Lancaster SEO company can help you show up in the local pack and Google map results–above normal search results.
Google also looks at online business directories to verify your business information. If your business name, address, and phone number (NAP) aren't consistent, Google may not list your business in search results.
By managing your local business listings, geo-targeting keywords, and more, we can help build trust with Google so they display you higher in search.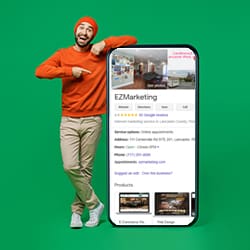 Local Business Listings are Free Advertising
There are thousands of free online business listings where you can add your business information (think Yellow Pages). It's free exposure for your business!
The problem is many of these business listings sites get your info wrong, which can hurt your local search ranking. Google relies on accurate local citations to decide whether to list your business in local search results or not.
As part of our digital marketing services, our SEO company manages all your business directory listings, ensuring that your information is accurate, consistent, and optimized for local keywords. This ensures both Google and your customers can trust your information online.
Our Local SEO Services Include:

Keyword Research
---
Keyword research is the foundation of how SEO works.
By starting with keyword research, we discover the ideas and topics that your customers are searching for. We can even narrow by location to see how a customer may search differently in your local area vs. across the whole nation.
Our SEO company examines which keywords have the most relevance with the least competition. We identify a strong main keyword as your foundation but make sure we include a host of semantic keywords that relate to the topic.
This in-depth research lets us gauge just what keywords to pursue to gain search rankings. It's a combination of science and art that our local SEO company excels at.

On-Page Optimization
---
Our website designers, working together with our SEO services team, will optimize your website to improve your Google rankings.
You can depend on our web development team to check each page of your website design with a fine-tooth comb. We'll check for code issues, uncompressed images, uncompressed JavaScript and CSS styles… anything that can compromise your site health and performance and detract from potential search rankings.
We also double-check your overall website design's structure as well as metadata like title tags, alt tags, and meta descriptions. Even though meta descriptions aren't a ranking factor, our SEO company still optimizes them to include calls-to-action and increase click-throughs to your website.

Technical SEO
---
Technical SEO involves optimizing the behind-the-scenes aspects of your website design to help search engines better index and crawl your site. In other words, we deal with all the nitty-gritty details that help your web pages rank better in search engines.
Other SEO companies don't want to deal with technical SEO because it's so… well… technical. But our Google-certified SEO experts will do a thorough audit of your website to identify even the smallest issues that might hurt your search visibility.
Our technical SEO services focus on your site structure to ensure that every page is accessible, loads fast, provides uniquely valuable content, and avoids dead links or duplicate content that confuse search engines. We'll even add structured data, or schema markup, which helps search engines understand your website, your content, and your business better than ever.

Link Building
---
Search engines look for sites that provide the best and most relevant answers to your customers' questions. Those are the sites that rank well in search.
Our local SEO services will help put you on the map by…
Producing high-quality content marketing that positions you as an expert and
Building diverse backlinks to your that tell search engines you're an authority on that topic.
For local businesses, we specifically pursue local links from nearby publications and influencers so you rank better in local search.

Business Directory Listings
---
There are literally thousands of online directories where your business listing can appear (think Yellow Pages, Yelp, social media sites, etc.). Unfortunately, many of them are incomplete, inconsistent, or just flat-out wrong.
Our local SEO company uses various tools to monitor your business directory listings and make the necessary corrections across key directories and central listing aggregators so that your information is accurate and consistent.
Doing so helps build trust with search engines and makes Google more likely to display your business and website design to local customers.

Monthly Reporting
---
One of the biggest challenges business owners have when working with an SEO agency is knowing whether or not your marketing is working or not. We get it–you want to know you're making a good investment.
That's why our agency provides detailed, but easy-to-understand monthly reports that show you how your SEO marketing is performing, including:
Search engine rankings
Organic traffic growth
Keyword performance
Local listing performance
More importantly, we don't just report. We use the data from Google Analytics, SEMrush, and other tools to adjust and improve our SEO strategies. And remember, because our local SEO services are right here in Lancaster, your account manager is close at hand to review your reports with you.
Companies We've Helped with Local SEO Services:
"SEO is a Jungle and EZMarketing is the Machete."
We lean on EZ for all of our SEO and online ad strategy. Allocating internal resources to understanding and keeping up with the constantly changing world of search optimization and what sort of advertising works and what doesn't wasn't really an option for us, just like it probably isn't for any small-to-mid-sized company. SEO is a jungle and EZMarketing is the machete. Their expertise gets us quantifiable results.
Jeremiah Eastep
,
The H&H Group