National Association of Watch & Clock Collectors
---
The NAWCC is a nonprofit organization dedicated to educating the world in the art and science of timekeeping. They also operate the National Watch & Clock Museum. They had a complex project involving several different websites and technologies. After two failed attempts to redesign their website with other vendors, NAWCC asked EZMarketing to help unify their sites into a single look a feel.
Their new design streamlines functionality and makes it easier for visitors to navigate and find the information they're looking for. Using custom programming, we also created separate access and content for members vs. non-members. With a clear message and updated design, the new website attracts visitors interested in horology and encourages them to join the association.
"We were looking for a partner to help redesign and streamline our complex websites into a single look and feel. EZMarketing took the lead and spent the time needed to understand our systems and deliver the results we needed. We launched 4-5 weeks ahead of schedule, and our objectives were met. We know the importance of good vendor relationships, clear communication, and productive design sessions. I am ecstatic that we went with EZM and we will surely continue to use their help in the future." – Rich Newman, Chair, NAWCC
Services:
View related Nonprofit examples.
View Case Study
View ALL Work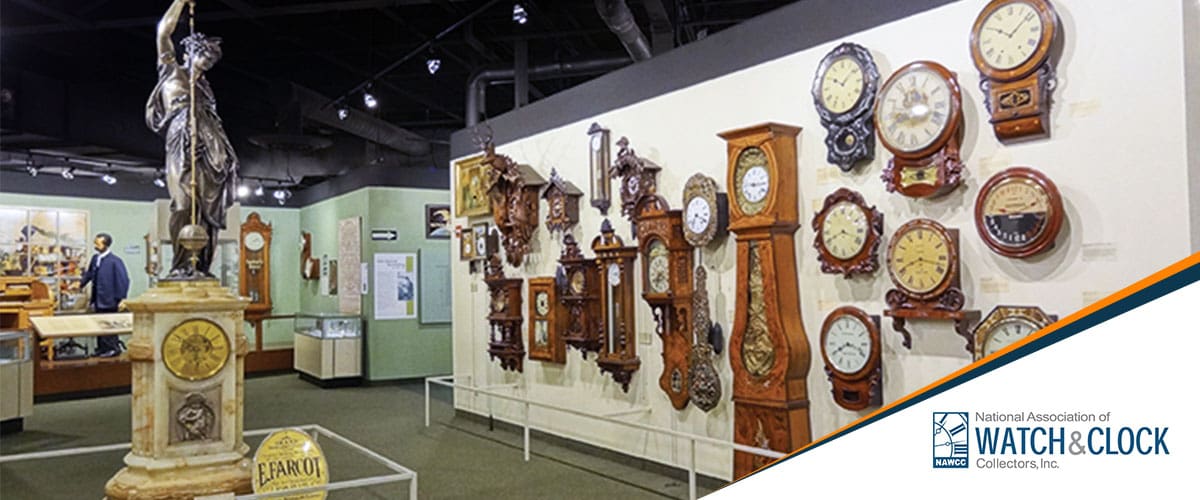 Redesigned website simplifies complex web environment to create better experience for staff, visitors, and existing members.
Meet the Client
The National Association of Watch & Clock Collectors exists to educate the world about the art and science of timekeeping. The Lancaster County nonprofit maintains the world's largest horological research library and operates the National Watch & Clock Museum, boasting the largest collection of international timepieces in North America.
The organization of over 10,000 members worldwide is committed to sharing the story of timekeeping with the public, particularly through its museum and website. As Board of Directors Chair Richard Newman says, "Most of our members never get to the museum, but they believe that the story and history of time is important. Otherwise, it's just a collection of objects that could be sitting in a warehouse anywhere. We need to tell the story in our museum and on our website."
The Challenge
When it came to telling NAWCC's story, their old website fell short. Developed over multiple years, the site had become several websites cobbled together with different designs and different technologies.
It was a maze to navigate. Menus changed from page to page, broken links were an issue, and it didn't display well on mobile devices. NAWCC needed a simple, unified site that was easy to use—for both their staff and their visitors.
However, as a volunteer organization, NAWCC had many stakeholders involved in the web design process, each with their own idea of what the site should look like, what it should say, and how it should be organized. NAWCC needed a partner who could provide guiding expertise and keep the project moving in the right direction.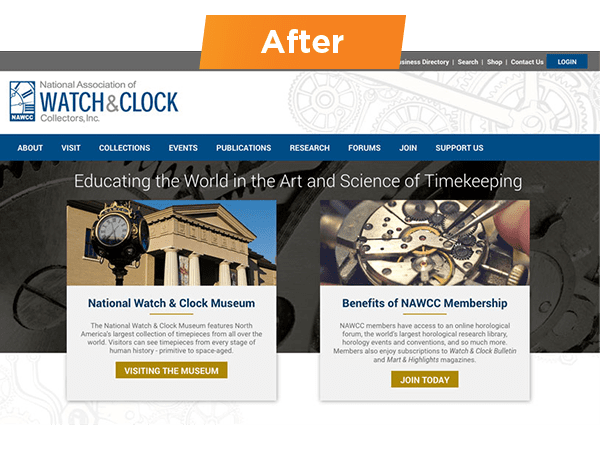 The Solution
NAWCC asked EZMarketing to help unify their sites into a single look and feel. In order to meet their goals and timeline, we focused on simplicity, clarity, and organization.
Simplicity—Using custom programming, we created a way for the different technologies powering the website to talk to each other. Combined with a visual redesign, this allowed us to make multiple sites look and feel like a single, centralized website.
Clarity—We helped NAWCC identify their core audience and write clear messaging that highlights the value of the museum and the benefits of membership.
Organization—The old site had 3 or 4 different navigation bars which changed depending on the page. We streamlined navigation so it's consistent across the site, making it easier for visitors and members to find information.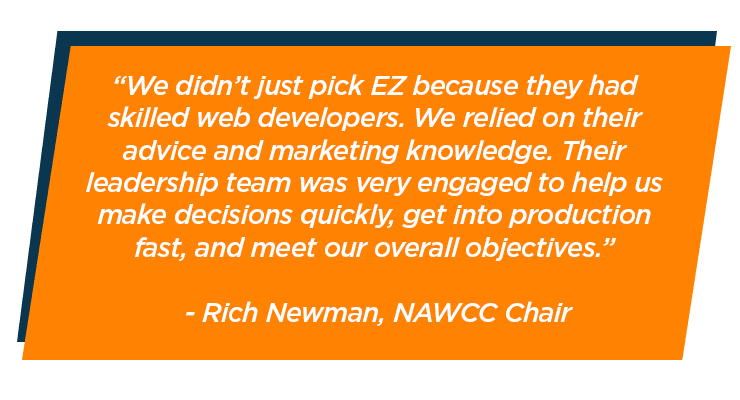 The Results
The new website launched in May of 2020—right into the COVID-19 pandemic. But the timing was crucial. The new website allowed NAWCC to promote podcasts, webinars, and other virtual events that would have been nearly impossible to do with the old website.
What's more, their members love it. NAWCC has a highly active community that shares their feedback on the site's forums. Since the launch, members have posted positive comments and discussions about new content and features.
It's made life easier for their staff as well. The old site sometimes had bugs, broken links, and missing pictures that were difficult to update. Since launch, staff have been making regular updates with zero time wasted on technical errors.
Most importantly, the new website helps NAWCC achieve their goal of reaching and engaging watch and clock enthusiasts. While the site still holds thousands of pages, articles, and videos, the simplicity of the site keeps all that knowledge organized and accessible. And that's keeping visitors interested.
"People found us on the old website, but we weren't able to capture their interest," said Newman. "Now when people find us, they're spending time on the website."