WEBSITE PRICE GUIDE
Get a Great Website at the Right Price
We believe the best website probably isn't the cheapest one. It's the one that shows customers how you can help them. That makes it easy to do business with you. But we realize that getting a great website can't break the bank either. See our website price guide below, or contact us today for a personalized quote.
How Much Does a Website Cost?
The simple answer is it depends. All our work is custom, so we quote each website individually. Our website design costs range from $6,000 to $50,000+. See the chart below for some ballpark numbers on what you should expect to pay from our web design company. If you want an accurate quote for your website design, contact us today!
Small websites typically have 10 or fewer pages and act like an online brochure to provide basic information about your business. These sites are best for small or startup businesses on a tight budget who want to generate awareness and validate their business.
Standard Website
$8K-$25K
If you want a website that's your best salesperson, you need a site that educates visitors about your business AND gets them to take action. Most sites we design are 10-40 pages and focus on generating more leads and customers for your business.
ECommerce Website
$10K-$50K+
If you want to sell your products online, you need an ecommerce website. Because they involve many product pages, an online shopping cart, and payment processing, ecommerce sites are typically more expensive than other types of websites.
Let's Design the Perfect Website at the Right Price
How much does a website cost?
What Options Affect Website Price?
Every website is a little different, so there are tons of different options that can affect the website price. It's a lot like buying a car. Some elements come "standard" like a certain number of pages, or a content management system. But adding extra features to your website is like adding heated seats or a sunroof-–-it can quickly drive up the website cost.
Here are some common options that may increase the website price:
Additional pages
Searchable databases
Private portals (like customer or employee-only sections)
Premium themes (if your designer is building a template-based site)
All-custom design (don't worry, all our work is custom)
3rd party software integrations
Web hosting plans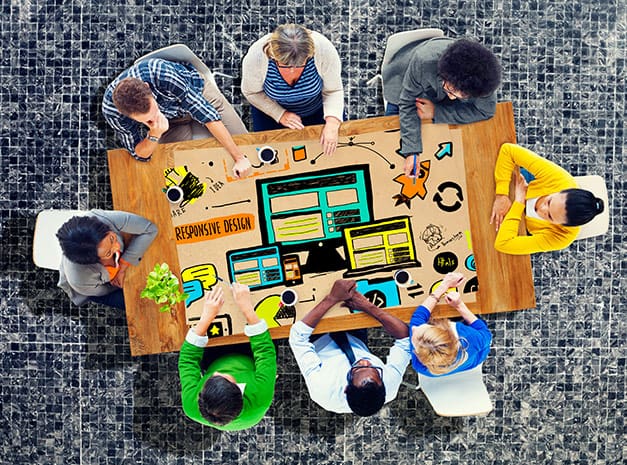 At EZMarketing, all of our web designs are fully custom WordPress sites. No templates or cookie-cutter designs. We'll get to know your business, review the features you need, and create a site map so you get an accurate price quote.
How Professional Website Design Costs Compare
When considering website cost, think about who is actually building your website. The costs above reflect what to expect when working with a web design company like us. But there are three basic approaches to building a website:
1
DIY Website Builder
Online builder tools like Wix and Squarespace allow just about anyone to build a website without any coding knowledge. They are usually much cheaper because they use pre-built templates, and you're doing all the work yourself. The cost to build a DIY website can be as little as $100 up to around $5,000 for an ecommerce site.
2
Freelance Web Designer
Freelance designers and developers run the gamut in terms of skills and experience, so their fees can vary wildly as well. Still, the average freelancer typically charges less than a full web design agency. You might see website prices between $1,000 and $10,000.
3
Professional Website Company
Web design companies are usually the most expensive option, but they're worth the investment if you're looking for an experienced website designer who can handle your project for you. We specialize in small business websites that typically cost between $6,000 and $50,000.
Why Should You Hire a Professional Web Development Company?
Why Choosing Us is Worth It
Talking numbers sometimes gives people sticker shock. Especially if you're looking at website builders or smaller agencies, you'll realize we aren't the cheapest. We're not for startups who only have a couple hundred dollars to spend on marketing.
We're not the most expensive either. We're not a fancy boutique agency that's going to charge thousands for "conceptual designs" and "ideation."
We focus on providing great websites for small businesses who want a professional web design that works for them. Here's why our small business clients in Lancaster, York, Harrisburg, and across the country think we're worth it:
"The customer service and experience required to elevate our business"
When we first opened, we did quite a bit of shopping for a marketing team that we felt would be the best fit. EZMarketing wasn't the cheapest, but the age-old saying "you get what you pay for" definitely comes into play here. We felt that other options would not have given us the customer service we needed or the experienced team required to elevate our business to where we are today!
Allory Melhorn
,
Melhorn Manor

Ultimate Website Buyer's Guide
Learn more about how much a website costs, how to hire the right web designer, and how to set your next web project up for success. This ultimate guide will walk you through what you need to know to get a great website.