DIGITAL MARKETING COMPANY YORK
Digital Marketing for York Businesses that Gets Results
Are you looking for a digital marketing company near York, PA? We've been helping York and Central PA small businesses with digital marketing services for more than 25 years. From web design to SEO and more, we'll find the right mix of marketing strategies to help grow your business.
Digital Marketing in York Made EZ!
As a York, PA small business owner, you've got a million things to worry about to keep your business running smoothly. So, it's not surprising that digital marketing may fall by the wayside. You have that nagging feeling that you should be updating your website design, or running more online marketing campaigns, but you just don't have the time or the energy to devote to it.
We get it–and we're here to help!
Our digital marketing agency is based in Lancaster, so we're right down the road from York, Pennsylvania. Our full-service agency can be a one-stop shop for all your marketing and advertising needs.
How Do I Get More Leads?
Want a digital marketing agency in York that can deliver more leads? Find out how we can help!
Our Internet Marketing Services for York Small Businesses

SEO Marketing
---
SEO marketing can help York businesses like yours get found on Google. Through effective keyword research, website optimization, content marketing, and UX upgrades, we can improve your search rankings, search visibility, and ultimately the number of prospects coming to your website.

Social Media Marketing
---
Leverage the power of social media sites like Facebook, LinkedIn, and more. Our digital marketing agency near York can help!
We'll manage your accounts, create posts, run ads, and even respond to comments to help build customer relationships and promote your brand.

Email Marketing
---
Email marketing is still one of the most reliable, cost-effective ways to reach your customers, whether they're in York or beyond. Let our local marketing agency help with everything from email newsletter design to copywriting to protecting you from spam violations that can impact your marketing.

PPC Marketing
---
Promote your York business in search results and across thousands of sites with PPC marketing. Our Google Certified team will craft a targeted PPC advertising campaign to reach your potential customers and drive qualified traffic. See measurable results, fast!

Geofencing Marketing
---
Location-based mobile advertising is the perfect way for our digital marketing company in York to help you target local customers.
Location-based mobile advertising is the perfect way for our digital marketing company in York to help you target local customers.

Google My Business
---
An optimized Google My Business Page listing is one of the simplest ways to attract more local customers to your York business. Our agency will make sure your GMB page is set up correctly. We can also manage your page on an ongoing basis with posts, new images, and other updates.
Why Choose Us as Your Digital Marketing Company in York?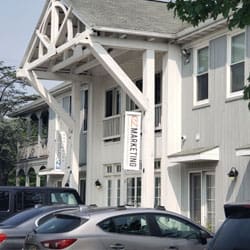 We're Here for You
Our marketing company is just down the road in Lancaster, so we're just a short drive away from York. You can trust that our friendly marketing experts will always be available for you – we'll gladly meet you at your offices, or our doors are always open here!
Every member of our agency staff lives by our motto … "EZ 2 Work With, Happy 2 Help." We apply that to everything we do. That goes for the big thing–like launching a digital marketing campaign or coming up with a new website design–right down to the small things–like having a real, live person answer the phone when you call. We're committed to making your marketing, and your life, easier.
We Eat, Sleep, and Breathe Internet Marketing
There are many internet marketing "gurus" out there who claim to know everything there is to know about digital marketing. No doubt, you've run into a few if you've been looking for a digital marketing company in York. But the truth is that marketing and technology are changing so rapidly, it's impossible for one person to keep up.
When you work with our digital marketing agency, you're not getting a single marketing consultant. You're getting an entire team of digital marketing experts, each with their own experience and specializations.
With the wealth of knowledge we have in-house, we offer a full range of internet marketing services, executed by experts who know how to get results because they do it every day.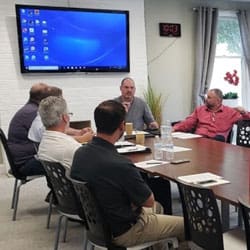 Proven Marketing Process
Great marketing doesn't happen by accident–that's why we have a proven marketing process that helps put your business on the path to success.
While we've worked with many York businesses, every company is unique, so we start all our digital marketing work by getting to know you, your business, and your goals. That way, we can develop a marketing and content strategy that's aligned with your objectives.
Once we have that strategy in place, we'll handle all the execution so you don't have to worry about it. Plus, we'll always report on our results so you know what's working and provide suggestions for future improvements.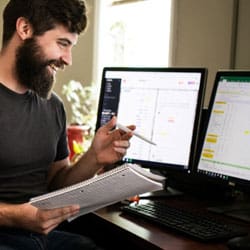 We Get Digital Marketing Results
When you're looking for a digital marketing agency in York, you don't just want to spend money on marketing. You want to invest in marketing and work with a marketing company that generates positive ROI.
We understand the importance of generating results that matter for your business, so we're serious about tracking and measuring everything that we do. Every month, we'll provide easy-to-understand reports that show you the results of your digital marketing campaigns.
One of the biggest challenges business owners have with internet marketing services is that they don't understand what they're paying for. We'll review our progress to make sure you know 1) what we did, 2) why we did it 3) the results and 4) how we'll improve moving forward.
"They cover all aspects of marketing"
"I love working with the EZMarketing team. They are extremely knowledgeable and they work hard to take care of all our marketing needs. They cover all aspects of marketing, which makes my job so much easier."
Project Manager
,
Heidler Roofing