Kelly Mahler Occupational Therapy
---
Kelly Mahler has worked in the field of autism for over 17 years, and when she wanted to grow her business, she turned to our web design agency for help. To support her unique business model of providing education and specialized training courses, we created an e-commerce website design that not only positions her as an industry expert but gives her a selling platform to promote her new book and generate revenue.
Services:
View related Medical & Healthcare examples.
View Case Study
View ALL Work
Website sees over 13,000 visitors per month due to highly successful SEO and digital ads, which drive cost-effective leads for Kelly's courses and materials.
Meet the Client
Kelly Mahler is an occupational therapist and educator seeking to empower people by teaching them about interoception.
While it's a big word that sounds complicated, interoception is all about how your brain interprets the feelings in your body. For example, when your stomach growls, your brain understands that you are hungry. Interoception is that sense that helps you answer the question, "How do I Feel?" in any given moment.
Kelly is passionate about sharing her knowledge of interoception to help people gain a deeper understanding of behavior and their own unique inner experience.
The Challenge
Kelly's first step to sharing her passion was creating an online course. But while Kelly is an expert in interoception, she had no idea how to build a website or get her course material online. She needed a marketing partner who understood her vision and could help guide her through the process of launching and expanding her business. She turned to EZMarketing for help.
The Solution
In 2019, we helped Kelly launch her first online course, along with a full website that shared her vision for helping people through interoception. When the opportunity to publish her books fell into her lap, Kelly felt confident taking the next leap forward with the EZ team at her back. Since then, we've continued to expand her website with a growing publication library, multiple on-demand courses and monthly live courses.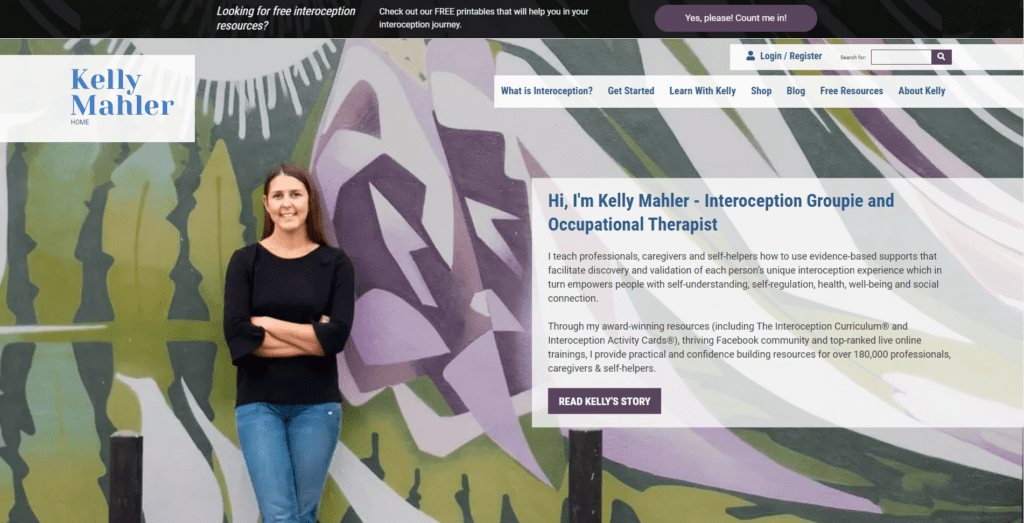 But simply publishing resources online wasn't enough. Kelly needed to spread the word to get them in front of people who needed them, so we created a multi-channel digital marketing effort including SEO, social media, and Google Ads.
To get her resources in front of the people who need them, we're helping Kelly spread the world with a multi-channel digital marketing effort, including:
SEO: We target therapy professionals, parents, caregivers, and self-advocates who are searching for solutions to behavioral issues. We optimize for both interoception-specific keywords and non-technical keywords to attract people who can benefit from Kelly's resources, regardless of their familiarity with interoception.
Facebook Ads: Kelly has a strong presence on social media, and we leverage Facebook ads to introduce her expertise to a wider audience. We run landing page view ads to drive more traffic back to Kelly's website and conversion ads to retarget website visitors with specific products and offers.
Google Ads: Since her other marketing efforts are already creating awareness, we focus Kelly's Google Ads solely on high-performance keywords that generate clicks and conversions.
Email Marketing: In order to capitalize on Kelly's growing email list, we created an automated email welcome series that is converting new subscribers into customers.
The Results
From the seed of her first online course, Kelly's website has grown into an extensive resource hub that sees nearly 13,000 visitors every month, about 80% of whom are new. Talk about spreading the word on interoception.
Nearly 30% of that traffic is due to the site's high rankings in Google. It ranks in the top 3 spots for 50-60 different keywords, which generates over 600K impressions, 45K clicks, and 900 organic leads a year.

Kelly's Facebook ads also generate huge amounts of traffic and cost-effective conversions for her products and courses. On average, her ads cost $0.25 per click or less and have a click through rate of 2-5%.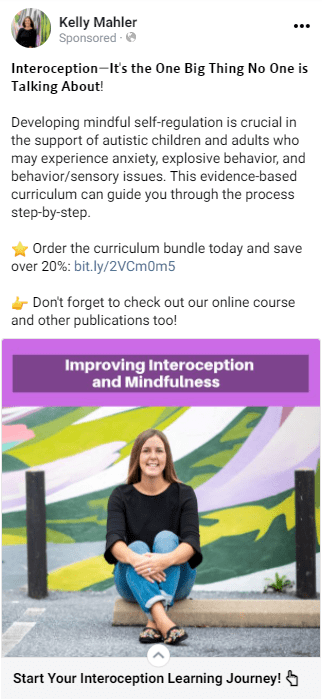 Kelly's Google Ads campaigns are successfully driving leads at rates far exceeding industry standards–her average cost per click is only $0.55 and average conversion rate is 8.6%.
Finally, Kelly continues to build her email marketing list, but a single 3-step welcome email series has generated a 2200% ROI so far (and counting!).
With the team at EZ at her back, Kelly has been empowered to expand her business and help more people through the power of interoception than she ever thought possible.